Funding opportunities in CEnR
Some of the largest federal and independent funders, including the National Institutes of Health (NIH) and Patient-Centered Outcomes Research Institute (PCORI), are supporting researchers who engage in CEnR and elevating non-traditional partners as equals in the research process. If you are just starting out, there are several available Penn State institutional funding mechanisms to provide mentorship, salary support and connections with the community as you embark on your CEnR research. These pipeline grants pave the way for larger funding opportunities in CEnR endeavors.
Penn State pilot funding sources
Expand answer
Penn State provides researchers with an opportunity to apply for internal funding sources that offer a springboard to their projects. Penn State Clinical and Translational Science Institute (CTSI) and Penn State Social Science Research Institute (SSRI) are research-driven institutes within Penn State that offer funding mechanisms designed to set teams up for larger, external funding opportunities.
Penn State Clinical and Translational Science Institute
Penn State Clinical and Translational Science Institute (CTSI) provides tools, services and training to make health research more efficient at Penn State. It is an advocate for translational science and is a bridge between basic scientists and clinical researchers. The institute encourages collaboration to discover new treatments, medical procedures and ways to diagnose disease. Through CTSI, researchers can consider the following funding opportunities:
Faculty Fellowship Program
Through the CTSI's Community-Engaged Research Core (CERC), the mentored Faculty Fellowship Program provides funding for a Penn State faculty member over the course of one year for study and training in community-engaged research with the guidance and support of a mentor identified by a fellow, who has agreed to provide mentoring. The fellowship is for:
Researchers already engaged in time- and resource-demanding community-engaged research; or
Early-career researchers and advanced trainees desiring hands-on experience and mentoring in the science and practice of community-engaged research.
Bridges to Translation Grants
The Penn State CTSI regularly awards funding to support pilot projects through its Bridges to Translation Award. The translation of biomedical and health discoveries to application is a long and complex process. This award seeks to fund pilot projects that build linkages and overcome roadblocks at any stage in the translational process.
Penn State Social Science Research Institute
Penn State Social Science Research Institute (SSRI) fosters research that addresses critical human and social problems at the local, national and international levels. They do so by bringing together researchers from different disciplines around emerging areas of study, and by providing consultation, financial support, shared, accessible infrastructure and services to social scientists at Penn State.
SSRI Faculty Fellows Award
The mentored Faculty Fellows Award supports Penn State social and behavioral science faculty at University Park and the College of Medicine in training in a new area of research and/or the development of new interdisciplinary collaborations aimed at building sustainable research and securing external funding.
Commonwealth Campuses Research Collaboration Development Program (CCRCDP)
The purpose of the CCRCDP is to encourage and support both independent and collaborative research projects between faculty at the Penn State Commonwealth Campuses, and faculty and research subject matter experts at the shared core facilities at University Park interdisciplinary institutes and the College of Medicine.
SSRI Level 1, Level 2, Co-funding of Faculty and Large Pilot Award Funding
Penn State's SSRI aims to support faculty members interested in collaborative and interdisciplinary research across the University. To provide this financial support, SSRI offers funding pathways to encourage research in projects both small and large, ranging from $500 – $75,000. Explore additional information about the ranges and scopes of projects that may be considered for SSRI funding.
Penn State College of Medicine Research Development
Funding opportunity identification is a key part of the Research Concierge Service and Research Development. Research Development subscribes to numerous funding databases, listservs and e-alerts sponsored by federal agencies, private foundations and corporate organizations in order to provide timely notifications of funding opportunities to faculty. Funding notices are subsequently disseminated to faculty who can request targeted email distribution based on stated research interests. The team also offers individualized funding searches to help investigators find support for particular projects, or investigators can use any of a number of funding search engines to identify other potential opportunities. Research Development also administers several internal grant programs that help to sustain the research programs of productive investigators, and coordinates the internal nomination process when other funding sponsors limit the number of proposals. See below for one specific opportunity to multidisciplinary team formation, which can give you an edge for external funding if you've established partnerships through this mechanism with key community members!
Pathways to Partnership Grants
The Penn State Pathway to Partnerships (P3) Program was initiated to stimulate new collaborations and to help broaden existing collaborations in ways that take research in new directions to promote the continuum of translational research. The P3 program comprises two to three stages aimed at supporting the development of effective multidisciplinary teams who will ultimately submit large proposals to external sponsors. Questions about this funding opportunity should be sent to researchdevelopment@pennstatehealth.psu.edu.
Federal funding opportunities
Expand answer
Patient-Centered Outcomes Research Institute
The Patient-Centered Outcomes Research Institute (PCORI) is a well-established research institution that has pioneered and led the way for community-focused research in the United States. Since its inception in 2010, PCORI, a non-profit agency, has supported more than 1800 community-focused research projects awarding more than $3.3 billion dollars.33
PCORI funding opportunities exist in the following categories:
Research
Engagement in research
Dissemination and implementation
Research infrastructure
National Institutes of Health
National Institutes of Health (NIH), a division of the U.S. Department of Health and Human Services, is the largest public funder of biomedical research in the world. NIH grants support the development and discovery of health-related treatments, with an overarching goal of reducing illness and enhancing life. NIH offers funding for many types of grants, contracts and even programs that help repay loans for researchers.
Centers for Disease Control and Prevention
As the nation's health protection agency, the Centers for Disease Control and Prevention (CDC) conducts critical science and provides health information that protects our nation against expensive and dangerous health threats, and responds when these arise. The Centers for Disease and Control and Prevention (CDC) uses grants and cooperative agreements to fund research and non-research public health programs that advance the agency's public health mission domestically and abroad to keep Americans safe and healthy where they work, live and play.34
Centers for Medicare & Medicaid Services
Centers for Medicare & Medicaid Services (CMS) serves U.S. recipients of public health insurance, with the following goals in service delivery: advance equity, expand access, engage partners, drive innovation and protect programs.
Health Resources and Services Administration
Health Resources and Services Administration (HRSA) programs provide equitable health care to people who are geographically isolated and economically or medically vulnerable. In doing so, HRSA supports research initiatives related to improving health outcomes, and achieving health equity through access to quality services, a skilled health workforce, and innovative, high-value programs.
Substance Abuse and Mental Health Services Administration
Substance Abuse and Mental Health Services Administration (SAMHSA) is the agency within the U.S. Department of Health and Human Services that leads public health efforts to advance the behavioral health of the nation. SAMHSA's mission is to reduce the impact of substance abuse and mental illness on America's communities.
Appendix Tip!
While the above funders are some of the largest federal CEnR funding sources, there are many other agencies that provide financial support for research projects. For a list of additional funding opportunities, please see Appendix C.
"Being a partner on the research project was an interesting, enjoyable and life-changing experience. The team helped us feel needed, engaged us in every project and always valued our opinions."
– Patient partner, PaTH to Health: Diabetes study
Building sustainable partnerships
One of the most important decisions a research team makes in the CEnR process is identifying a community partner(s) for the project. Following specific guidelines early in the team building process can establish a foundation of trust for a mutually satisfying and beneficial collaboration between researchers and community partners.
Steps for Building Teams in CEnR
Step 1
Contact the Penn State CHEER program! We are here to help connect you with community partners based on shared interests and provide resources and educational programming in an effort to promote meaningful and sustainable partnerships. Email us at CHEER@pennstatehealth.psu.edu!
Step 2
Get to know the community (culture, values, economic conditions, demographic trends, etc.) before seeking partnerships.21,35
Step 3
Connect with community leaders / influencers by attending local events and becoming familiar with organizations (schools, churches, non-profit agencies, etc.).21,35
Step 4
Determine if the potential community partner already has the resources (or can develop them) necessary to support a partnership.35
Step 5
Identify potential partner(s) and determine if a CEnR collaboration will be mutually beneficial for both the researcher and the community partner(s).35
Additional considerations
It is important that research teams and community partners not only consider their mutual interests and benefits in a proposed research partnership, but also their differences in perspectives, agendas and needs before agreeing on a collaboration.36
It is suggested that researchers begin steps for building their teams at least six months before the start of the research project to ensure team-building decisions are given plenty of time and consideration.37 Forming partnerships well before the research commences also allows the opportunity for community perspectives to be integrated into the research proposal development to ensure patient-centered relevant objectives and outcomes.
Potential community partners may be more interested in and willing to work with research and education teams from organizations with which they have had positive connections and interactions in the past.35 Let our community engagement team help to determine if existing Penn State connections might be a fit for your work. Contact us at: CHEER@pennstatehealth.psu.edu.
Insider Tip!
The Penn State CTSI Team Science Toolbox is a great resource to explore:
How to tailor content to novices of team science.
Practical, pertinent team knowledge that addresses specific and common team needs.
An array of team-based interventions throughout the team life cycle.
Evidence-based team interventions supported by team research.
Team-based metrics to assess team processes, climate and effectiveness.
Education and training needs to get started in CEnR
There are numerous educational resources and trainings to support your broader understanding of CEnR methodology and engagement best practices. Here are a few to pique your interest!
CHEER also offers workshops where you can learn from your mentors and peers in real-time to gain insights into how to overcome barriers and implement successful strategies within community-academic partnerships.
Our community partners need training too and we have that covered! We have worked in partnership with the Human Research Protection Program (HRPP) at Penn State to offer the CIRTification (Community Involvement in Research) Training, originally developed by the Center for Clinical and Translational Science at the University of Illinois, Chicago.19 This is an excellent and comprehensive lay research ethics training offered to community partners freely available in an interactive online format. This roughly four-hour training is appropriate for community partners who will be integrally involved in the research (required for any non-Penn State partner with direct access to patients/participants, identifiable data collection and analysis in expedited or full board review studies) but is also recommended for all partners to learn about important topic areas within research. Please refer to the HRP-508 Individual Investigator Agreement found in the CATS library (irb.psu.edu) for specific information regarding this training alternative or visit the instruction page here.
"Community partners are critical to ensuring our clinical and translational research is relevant to those we serve through our land-grant mission. CIRTification, as a community-friendly human subjects training alternative, is an important step to ensuring our stakeholders' voices are at the table. We are grateful for our HRPP partners for standing up this valuable tool as an option for our research teams."
– Jennifer L. Kraschnewski, MD, MPH, Director, Penn State CTSI
Insider Tip!
A study team member who is not a student or employee of Penn State or Penn State Health and who is not employed by or acting as an agent of another assured institution must complete HRP-508 – Individual Investigator Agreement. The completed and signed form, along with documentation of human subjects protection training completed, should be submitted to the IRB Analyst by clicking "Add Comment" in the left-hand side menu of the submission workspace in CATS IRB.
The CHEER team supplements CIRTification training with several dynamic educational opportunities to create pathways for partners to increase their knowledge of research practices and thrive in translational efforts.
"The knowledge that I've gained listening into the calls and the experiences that they share, I can go and share that with other people that I know to get them engaged and become proactive in their health and wellness."
– Patient partner, PaTH to Health: Diabetes study
Maintaining engagement throughout CEnR
Community partners can be involved in various aspects of the research process from proposal development through dissemination of research findings back to their communities. The CHEER team is here to provide you with support and trainings along the way to cultivate impactful partnerships both on your current research and beyond.
Keep in mind that successful partnerships, just like other relationships, take time to grow. The CHEER community engagement team can help speed up this process by connecting you with partners already interested in collaborating with Penn State teams. If possible, getting to know the community in which you would like to perform your research FIRST and opening a dialogue about what matters to them can not only increase the likelihood that they will be receptive to your research, but can also bolster your research recruitment, methodology and dissemination approaches. It is often through a platform of sharing and bidirectional communication that research priorities are identified and the seeds of partnerships are sowed.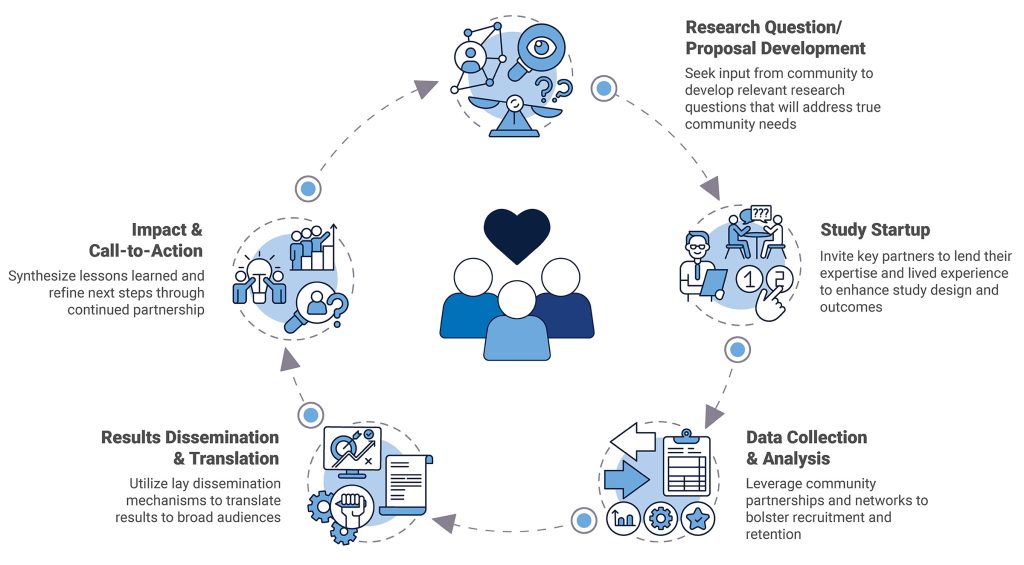 Check it out!
Recruitment can be a challenging phase of research. By leveraging the connections you've made with your community partners, you can successfully meet your goals! Check out the following toolkits for resources and tips to develop and implement your recruitment methodology:
Successful Research Recruitment: A Toolkit for a Community-Based Approach
Trial Innovation Network Recruitment Innovation Center (RIC) Recruitment & Retention Materials Content + Design Toolkit
RIC Recruitment Materials Study Website Toolkit
The Multi-Regional Clinical Trials (MRCT) Center of Brigham AND Women's Hospital and Harvard – Achieving Diversity, Inclusion, and Equity in Clinical Research Toolkit
All recruiting materials need to be reviewed and approved by the IRB.
All College of Medicine study teams need to work with the College of Medicine's Office of Marketing and Communications on recruitment efforts. Contact the team at
Insider Tip!
Looking to hire a community engagement coordinator to lead your study's engagement efforts? The CHEER team has job descriptions for these positions that can be adapted to your project's needs.
The CHEER team also has experience hiring Community Health Workers (CHWs) to assist in recruitment and data collection phases of research. Reach out to us if this is of interest to you! Email: CHEER@pennstatehealth.psu.edu.
Description: Engagement Circle Graphic
Expand answer
A circle made up of five arrows with five groups of decorative icons between the arrows. In the middle of the circle, an icon depicting three people with a heart above them. Each icon group corresponds to some text.
The text reads, clockwise from the top of the circle:
Research Question/Proposal Development: Seek input from community to develop relevant research questions that will address true community needs
Study Startup: Invite key partners to lend their expertise and lived experience to enhance study design and outcomes
Data Collection & Analysis: Leverage community partnerships and networks to bolster recruitment and retention
Results Dissemination & Translation: Utilize lay dissemination mechanisms to translate results to broad audiences
Impact & Call-to-Action: Synthesize lessons learned and refine next steps through continued partnership
Communication tools to enhance strong connections
Researchers can implement robust communication tools to establish and maintain strong connections with their community partners. Utilizing these resources helps create transparent, streamlined communication systems that foster trusting, collaborative partnerships. Some evidence-based communication tools to consider include the following:
Targeted Stakeholder Agendas are a great organizational tool to establish collective expectations throughout study meetings that will enhance discussions, brainstorming and feedback. By sending these out at least one week in advance of the meeting, community partners can come prepared with specific feedback to enhance study discussions.24
---
Virtual meetings are a good solution to overcoming barriers for community partners geographically dispersed or with mobility limitations. Not only are virtual meetings convenient, they also enhance diversity, equity, inclusion and accessibility (DEIA).38,39
Additional resources for planning and facilitating virtual meetings:
---
Newsletters are an effective tool to share interim study updates, progress and highlight stakeholders' contributions to the project. They are a great way to keep community partners informed of the research, especially if you meet infrequently (e.g. quarterly or biannually). Newsletters can also serve as a great resource for study participants to maintain momentum and adherence to the research. In being good stewards of the research, it's important we're not only keeping the lines of communication open with our community partners but our research participants as well – without them, the research wouldn't be possible!
---
Lay dissemination briefs translate results findings published in scientific journals to a broader community, thus creating and maintaining a foundation of trust for partnerships to flourish and thrive. Funders now more than ever are requiring investigative teams to share results with study participants. These simple and illustrative one-pagers provide lay translation of study results back to communities – it's a wonderful tool to close the loop!40
---
A visual abstract is also an effective tool to disseminate research results more broadly, and is gaining traction at scientific meetings. Consider a poster presentation that contains way less words and way more graphics! Infographics are an effective evidence-based method to disseminate research findings to community members and researchers alike.41 Not only are these exciting visual aids easy-to-understand, they are fun to create!
Download a sample Visual Abstract [PDF]
---
Community partners may also be interested in assisting with scholarly activities, such as manuscript writing and oral/poster presentations at conferences and we encourage this! We advise teams to follow the International Committee of Medical Journal Editors (ICMJE) Authorship Guidelines.
Since community engagement in research has gained significant traction in research years, there are lots of "homes" for your important work! Below are a few to consider:
ACTS: Association for Clinical and Translational Science
PCHP: Progress in Community Health Partnerships: Research, Education and Action
Health Education and Behavior
Research Involvement and Engagement
Health and Social Care in the Community
You'll also see top-tiered medical journals accepting community-engaged articles so think outside the box!
We know publication costs can be a barrier – thankfully, there has been increased momentum to move towards Open Access (making your important work freely available), with Penn State University Libraries partnering with several big publishers to either discount or fully waive publication costs!
Making Meetings Inclusive and Accessible
Expand answer
Download a printable brochure with this information [PDF]
Take an inclusive approach to meetings by making proactive accommodations that ensure accessibility for all.
Accommodations vs. Accessibility
Accommodations: Modifications or adjustments requested by an attendee, specific to their needs.
Accessibility: Steps to make meeting content available to everyone, in equally effective ways.
"Accessibility is the goal. Accommodations are the tools to reach it."
In-Person Meetings
Make sure your team knows how to reach you if they have accessibility concerns or need specific accommodations to participate in the meeting.
Choosing a Location
Each venue will have different accessibility concerns that may need to be addressed. Keeping this in mind will save time and effort moving forward. Consider the following when planning a meeting or event:
Wheelchair accessibility – Check if the building, specific meeting space, aisles and tables can be accessed by someone who uses a wheelchair.
Service animals – Service animals, such as guide dogs, must be permitted to accompany the individual with a disability to all areas of the venue. Ensure there is space for these animals to remain with the individual.
Preferred seating

Reserve seats in front of the presenter for people with visual, hearing or processing impairments.
Individuals making use of sign language interpretation services will need to be seated in front of or next to their interpreter.

Adjustable room lighting – Use this to increase the contrast and visibility of audiovisual materials.
Preparing Materials and Assistance
Assistance during speeches/discussion – Provide real-time captioning, American Sign Language and foreign language interpreters, and note takers.
Assistive listening devices – Make these available for participants to improve the auditory reception of speech or sound information.
Signage, displays and handouts – Use high-contrast colors and large print for materials and braille for maps, books, signs, menus, forms and displays.
Screens and stage – Make sure all screens and presentation areas are visible from all areas of the venue.
Accessible documents – Ensure all documents related to the meeting, such as PowerPoints, agendas, PDFs and Word documents, are created with accessibility in mind.

Use PDF documents sparingly, as they are not compatible with many screen-reader devices and programs.
Use large, clear fonts, with a type size of 14 or larger. These are easier for screen-reader programs to dictate. Avoid all-capital letters, underlines and italics as much as possible.
See the Section508.gov website for more information on creating accessible documents.
Timing for the Meeting
Start and end times – Communicate to everyone when the meeting will start and end.
Breaks – Build breaks into the agenda.
Time for accommodations – If accommodations have been requested, allow these participants time to enter the venue and get situated before the general audience.
During the Meeting
Starting the meeting

Introduce the interpreter and any other service providers, if they are in attendance.
Describe the layout of the venue, including locations of restrooms and emergency exits, and where participants can go if they need a break.
Provide an overview of the meeting's purpose and content.
Identify a facilitator who can address unexpected or unanticipated needs throughout the meeting.
Questions and discussions:

Tell participants when there will be time for questions.
Prepare to take verbal questions, as well as offer participants the opportunity to write them down or dictate.
Instruct attendees to wait to be called on, not interrupt, speak one at a time and speak clearly into the microphone, if providing one.
Ask that participants say their name when they are talking so everyone knows who is talking.
Virtual Meetings
Make sure your team knows how to reach you if they have accessibility concerns or need specific accommodations to participate in the meeting.
Before the Meeting
Provide multiple ways to connect – Offer multiple ways to join the meeting, such as a Zoom link as well as a dial-in number that participants can use if they have trouble connecting.
Distribute everything ahead of time – Send the agenda and any materials, including links, to all meeting participants ahead of time. This gives everyone time to prepare and review the topics.
Create accessible materials – Ensure all documents related to the meeting, such as PowerPoints, agendas, PDFs and Word documents, are created with accessibility in mind.
Use PDF documents sparingly, as they are not compatible with many screen-reader devices and programs.

Use large, clear fonts, with a type size of 14 or larger. These are easier for screen-reader programs to dictate. Avoid all-capital letters, underlines and italics as much as possible.
Flashy transitions, animations and even screen sharing can be distracting, especially to those with visual impairments or who use a screen reader.
See the Section508.gov website for more information on creating accessible materials.

Check for accessibility features – Look up accessibility features for common virtual meeting platforms such as Zoom or Microsoft Teams, and Microsoft Outlook for documents and presentations.
During the Meeting
Camera – The meeting host should have the camera on. This not only makes the meeting more personable, but it is easier for participants with hearing impairments to lip read and identify what is being communicated. Make sure you are facing the camera and not covering your face or mouth.
Microphone – Those who are not speaking should mute their microphones. The background noise is distracting for everyone. Wear a headset with a built-in mic if you have one, as it makes it easier for participants to hear you, is better for automatic closed captioning, prevents the dreaded "feedback" loop and filters background noise.
Chat – Use the chat feature sparingly. Screen-reader programs can pick up on the text in a chat window, which can be distracting for the user.
Group participation

Let participants know when you want them to participate.
Check in with the group throughout the meeting to make sure they are comfortable with the pace.
Encourage the group to use built-in features like the hand-up/hand-down button to keep track of who would like a turn to speak.
If there are interruptions, acknowledge them and redirect them to the end of the meeting or a more appropriate time.

Meeting minutes – Designate someone to create meeting minutes or plan to record the meeting for reference later.
After the Meeting
Follow up – Send meeting minutes, a summary or a recording of the meeting.
Ask for suggestions – Check in with meeting participants who requested accommodations. Ask them how the accommodations worked and for ways to improve accessibility moving forward.
Measuring community engagement
Funders often require CEnR researchers to provide feedback about approaches to engagement, challenges and resolutions during partnerships and subsequent impact on the research process. They may request data about stakeholders' experiences in a CEnR project to assess levels of outreach and education, consultation, cooperation, collaboration and partnership.
Aside from reporting requirements, when teams carve time out to reflect on their current approaches to engagement it allows opportunities for tweaking and improving processes that can lead to a more engaged team, which in turn can positively impact the research. Throughout engagement, formative and process evaluations can be utilized to evaluate how partnerships were formed, maintained and their ultimate impact on the research. This can elucidate if the appropriate community members or organizations are included, whether participants feel their feedback is implemented to enhance the research and how engagement practices are shaped and sustained. Following completion of the CEnR project, evaluation may examine its immediate outcomes, summative impact or sustainability beyond the project scope.2
The Clinical and Translational Science Awards Consortium Community Engagement Key Function Committee Task Force on the Principles of Community Engagement (Second Edition) has developed example questions to ask when evaluating community engagement:2,43-44
Are the right community members at the table? This is a question that needs to be re-assessed throughout the program or intervention because the "right community members" might change over time.
Do the process and structure of meetings allow for all voices to be heard and equally valued? For example, where do meetings take place, at what time of day or night and who leads the meetings? What is the mechanism for decision-making or coming to consensus; how are conflicts handled?
How are community members involved in developing the program or intervention? Did they help conceptualize the project, establish project goals and develop or plan the project? How did community members help assure that the program or intervention is culturally sensitive?
How are community members involved in implementing the program or intervention? Did they assist with the development of study materials or the implementation of project activities or provide space?
How are community members involved in program evaluation or data analysis? Did they help interpret or synthesize conclusions? Did they help develop or disseminate materials? Are they co-authors on all publications or products?
What kind of learning has occurred, for both the community and the academics? Have community members learned about evaluation or research methods? Have academics learned about the community health issues? Are there examples of co-learning?
Evaluating engagement methodologies in research is an emerging area of inquiry and significant evidence gaps remain. The Patient-Centered Outcomes Research Institute (PCORI) has funding mechanisms to advance our understanding of best practices for stakeholder engagement and the development of validated measures of structure/context, process and outcomes of engagement. Interested in this funding opportunity? Click here to learn more!
Insider Tip!
Continuously tracking community engagement can seem daunting, particularly when you have varying levels of engagement with multiple groups over the life of your project. Check out how REDCap can be utilized as an efficient, time-saving data management tool to document engagement efforts and impact on the research:45
Access article here!
Insider Tip!
Looking for a validated tool to quantitatively evaluate your stakeholder engagement efforts? Consider using the Research Engagement Survey Tool (REST).
Evaluating engagement efforts typically necessitates both quantitative and qualitative rigor because of the diversity of issues addressed.2 Qualitative methods allow you to gain richer insight into which approaches to CEnR efforts are most valued by your community partners. Penn State College of Medicine's Qualitative and Mixed Methods Core (QMMC) provides services such as interviewing, transcription and coding to study teams who want to implement qualitative and mixed methods practices in their project. Reach out for a consult with the experts!
Overcoming challenges to engagement
Researchers may be concerned about anticipated challenges to community collaboration. Maintaining an effective partnership over the course of a community-engaged research study requires thoughtful consideration of the day-to-day functioning of a community partner's organization or personal responsibilities. Building trust with community partners requires an understanding of the challenges and barriers that may be presented with the addition of a research project to their professional tasks or other role(s) within the community. Careful planning and communication can often address these challenges, but common pitfalls to community-engaged research can still exist.46 Below are some common challenges often experienced in CEnR projects along with strategies to avoid and/or mitigate these potential obstacles:
Lack of understanding of true community needs
An investigator may make a unilateral decision about how an intervention may solve a community health need but this may not align with true priorities of the community.46-48
Let's address it! The best opportunity to get to know the community is before the research begins. Too often, researchers will come into a community to conduct their research and then leave. However, by opening up the dialogue with the community early on to identify what their research priorities and concerns are, you will be well-positioned to enhance not only your research but the relationships that ultimately support your research.
Insider Tip!
Need to tap into a community to gain insight into an aspect of your research? Community Engagement Studios (CESs), facilitated through the Penn State CTSI Community-Engaged Research Core (CERC), provide a forum for researchers to hear firsthand from patients, caregivers, community members and care providers on how to plan and conduct research that is more relevant, patient-centered and impactful. The Community Engagement Studio is a one-time, 90-minute meeting where community members give feedback and advice to improve upon investigators' research projects. A studio provides a cost-effective and time efficient method to engage patients and stakeholders to enhance current research practices and improve upon dissemination. It's FREE to Penn State researchers, though we encourage research teams to provide a stipend to community attendees.
Email engage@pennstatehealth.psu.edu to schedule a CES today!
Tokenism
Sometimes without realizing it you may be "check-boxing" engagement efforts to meet funder requirements but community partners will be less likely to contribute to your project if they do not feel valued. As participants in CEnR, community partners may expect to have particular role(s) in the project and will want (and should have!) their "voices" heard. You may be challenged with how to show partner value.49
Let's address it! It's important to cultivate a partnership that is based on genuine intent and trust. Come to the 'table' ready to listen. Allow community partners to share their concerns, remembering that their input is valuable to the overall project. Remain authentic in your engagement approach by seeking and utilizing partner feedback and experiences. Utilize our "Closing the Feedback Loop" documentation (Appendix H) to demonstrate the valuable feedback shared from community partners and subsequent implementation with the overall goal of improving the research.
Closing the Feedback Loop
Lack of knowledge, skills, training
There will likely be a learning curve for community partners, especially if it is their first time collaborating on a research study. They may not be as familiar with the myriad technical and ethical aspects of research conduct. Power dynamics can also be at play.46-48
Let's address it! Level the playing field! The CHEER team encourages all community partners to complete a lay research ethics training, CIRTification (Community Involvement in Research), to provide a foundation of core research processes and underlying ethical considerations that they may encounter during their partnership on the research study. CHEER supplements this foundational training with several targeted Just-In-Time workshops and webinars. Have a particular training topic that you would like to see offered to your community partners? Let us know! Email: CHEER@pennstatehealth.psu.edu
The need for additional resources
Additional time, staff, training and other administrative resources may be necessary to complete the research project. Community partners may be limited in their ability to participate if these present organizational obstacles, including financial limitations.46-48
Let's address it! Think ahead and allow for comprehensive planning. Conduct a full assessment of the study's needs and requirements, including what you have committed to your funding source. Recognize limitations early on so these may be addressed at the start of the project. If you are planning to engage with community partners and this is written into your proposal, ensure you have asked the CHEER team how you might anticipate and allocate engagement resource needs during your budget preparation. If you need to hire additional staff, we have job descriptions that can be tailored to meet the roles and responsibilities of your team members!
Conflicts among partners
Academic and community partners have separate and distinct organizational hierarchies to consider. Collaboration under the goal of a research study may reveal a clash between organizational cultures and decision-making structures. Further, academic partners and community partners may need to adhere to organizational, local and/or federal requirements that are not in sync. Community partners are not inherently familiar with the structure and academic requirements associated with a research project. Similarly, researchers are not always well-versed in the inner workings of a community partner's organization and culture of service delivery. As such, researchers and community partners alike may be unfamiliar with, and unprepared for the demands associated with their individual areas of work. This can result in a conflict in service provision and/or fulfillment of research goals. In addition, a researcher's priority of the study may not align with the priorities of the community partner(s). Competing agendas could present challenges to the project, ultimately impacting the focus of the study, associated research activities and overall time required to complete the project.46-48
Let's address it! Discuss the priorities, interests and needs of all stakeholders during initial planning meetings. Collaboratively decide on the study's purpose and create an estimated timeline for study phases. Evaluate and discuss both the finite and nuanced role(s) in their organization, and how those may or may not merge with your decision-making processes. Establish clear expectations and appropriate professional boundaries of each member of the research team, both verbally and in writing. Cultivate an environment where researchers and community partners utilize open and transparent communication should challenges arise.
Utilize Penn State's Clinical and Translational Team Science Toolbox for evidence-based conflict resolution strategies.
Insider Tip!
Penn State Clinical and Translational Science Institute provides research ethics consultations to maximize the benefits and minimize potential harms of research to society. The institute involves both investigators and regulators where values of efficiency, appropriate attention to ethical research conduct and regulatory compliance are continuously balanced. Consultations can help researchers and others involved in the research process identify practical solutions to ethical, policy and social challenges.
The Institute also provides education through seminars and facilitated discussions on a variety of research ethics topics, including responsible conduct of research (research misconduct, informed consent, authorship), ethical and social issues around genomic research, biobanking, and privacy and confidentiality in an era of broad data sharing and data-driven research.
Research ethics consultations are part of the institute's Research Methods Core and are open to members of the Penn State community for free!
To request a special presentation on research ethics topics for a department or University group, email ctsi@pennstatehealth.psu.edu.
Appendix Tip!
To ensure that all members of the research team are aligned in the expectations of the project – both in the objectives and the financial aspects – research teams can utilize a Stakeholder Charter and/or Memorandum of Understanding (MOU) (Appendices I and J). These tools will help overcome challenges to engagement by establishing a foundation of understanding, trust and transparency for CEnR partnerships.
Be sure to work with your departmental finance team and your grants/contracts office if there is any financial exchange over the course of your partnership. These experts will assist you in the development of an official MOU that outlines responsibilities of each partner and fiscal agreements for the work proposed.
Check it out!
Reimbursing community partners for their time is one pillar of a respectful, collaborative partnership.23 Not sure how much to reimburse? You may want to refer to the Value of Volunteer Time — Independent Sector for instant, free access to extensive national data, historical trends and the value of volunteers' contribution in time, talent and effort in all 50 states, the District of Columbia, and Puerto Rico.
The CHEER team is also happy to provide guidance on what past studies have used as rates for reimbursement of community partner efforts on federally funded research projects that can be adapted for your study's particular needs.
CHEER is here to help!
The CHEER team at the Penn State College of Medicine recognizes the impact that research and education teams have in making individual lives better and communities stronger by reducing health disparities. Our team is here to support researchers by offering a variety of training options and resources to best develop beneficial community-academic partnerships that have meaningful, real-world outcomes.
CHEER can help research and education teams:
Frame competitive funding proposals with increased focus on developing sound engagement plans.
Identify community partners interested in participating in CEnR.
Cultivate community partnerships that are based on trust, integrity and mutual respect.
Understand guiding principles unique to CEnR.
Develop and manage the steps of creating and implementing a CEnR project.
Establish clear roles and boundaries during partnership formation.
Determine the best CEnR relationships to meet the needs, desires and interests of the community.
Provide guidance for best practices related to lay dissemination of results.2
Our team can be reached at: CHEER@pennstatehealth.psu.edu. We look forward to working with you!
"The strengths of Penn State is like a gift yet to be unwrapped by the community. Once others are engaged and offered the opportunity for growth, they too will be surprised by the promise of a brighter tomorrow from the knowledge of yesterday."
– Bonnie Kent, community team member, Community-Engaged Research Core, Penn State CTSI