Becoming familiarized with and implementing guiding principles of engagement will cultivate community partnerships that are based on trust, integrity and mutual respect.17 Because underrepresented communities have historically been exploited, deceived and abused in academic and medical research, CEnR principles are rooted in equity and social justice.19,20 CEnR is viewed as a shared experience of learning that empowers all participants.9,21
Guiding principles of engagement include:
Collaborative partnerships
Collaboration is the foundation of CEnR. Partnerships are a shared experience of creating knowledge that empowers all participants and promotes social justice.
Diversity in CEnR is more than the representation of specific groups. It is deliberately inclusive and welcoming of all participants.
For CEnR to be successful, the process should be a mutually beneficial experience for all stakeholders involved.
CEnR is a cooperative, recurring process.
Researchers recognize their unique power and privilege when working in CEnR partnerships, but understand their responsibility to address power differentials and support an environment of equality among all stakeholders.
Respect, compromise, flexibility and transparent, frequent communication are paramount skills for researchers involved in CEnR.
Prioritization of community
The community's needs matter.
The community is viewed as an extension of the identity of its members.
Each community has a unique culture, history, set of concerns, hopes and resources that are as valuable to the research process as formal training and education.
It is the responsibility of the research team to learn about the community with which they wish to collaborate.
Bi-directional communication
Trusting relationships between stakeholders and the research team are the result of transparent, honest communication.
The roles and boundaries of all stakeholders are communicated clearly and established early in the research process.
Stakeholders should feel comfortable to mutually share knowledge that contributes to the project and its outcomes.
Researchers communicate technical concepts in lay terminology to establish trust and assure understanding among community partners.
Findings and knowledge gained are disseminated in an equal, timely manner to community partners.
Regular evaluations of project progress (or lack thereof) should be communicated with stakeholders.
All participants are made aware of their rights to privacy and confidentiality. 11,17,22,23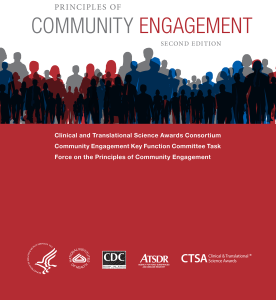 Deeper Dive!
We've just scratched the surface! If you want a deeper dive, check out the
Clinical and Translational Science Awards Consortium Community Engagement Key Function Committee Task Force on the Principles of Community Engagement – Second Edition
. NIH Publication No. 11-7782.
Appendix Tip!
For concrete examples of how to create equitable partnerships that will enhance engagement in the planning, conduct, and dissemination phases of your project, consider: